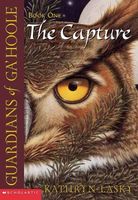 Our 4th grade students should be super-excited that Kathryn Lasky's series "The Guardians of Ga'Hoole" is coming to the big screen on Friday, September 24th. A futuristic world in which Soren, a barn owl, is captured by a group of evil owls intent on taking over the world.
The Hillside Library has multiple copies of the first 7 books. There are 15 total.
Click her
e to see a movie preview and visit the official movie site.
Click here
to view a "book trailer" on YouTube.
Click here
to visit the author's site.