This year at Hillside School, all specialists are teaching an "enrichment" time. For 9 weeks, each 1st - 4th grade class gets an extra 35 min. library time, and then they rotate to PE Health for 9 weeks, Music for 9 weeks, and Art for 9 weeks.
This is time for the students to learn more than what they learn in the "regular" curriculum for PE/Health, Art, Music and Library.
I was excited about this "bonus" time because it allows me to explore curricular-related projects and break out some technology tools I have been dying to try with the students!
With 4th graders, we jumped into learning coding by using
Code.org
. There are many other computer programming sites for students out there, such as
Scratch
or
Tynker
, but by far, I find Code.org to be the most user-friendly. (Also, the fact that Code.org introduces Angry Birds characters really engages the students right away.) Mrs. Zanger and Mrs. Sonnie explored the use of Code.org with their technology club last year.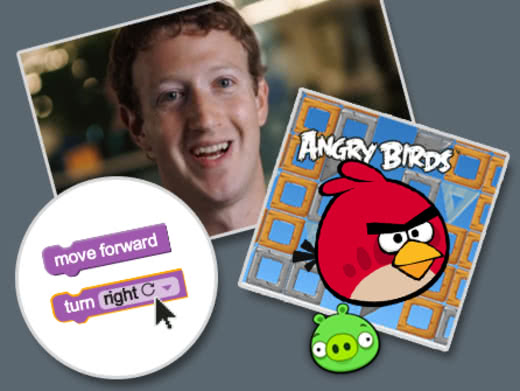 First, we watched the
promotional video
that features stars like Chris Bosh, will.i.am and Mark Zuckerberg telling students why studying coding is important.
Students created an account using their district-assigned GOOGLE DOCS account and then used a class code (created by teacher Mrs. Eley) to login. Mrs. Eley can keep track of their progress throughout the course. Students can even choose to log on at home if they wish!
After working through the first through lessons of
Course 2
as a whole class, I let the students begin to work independently. The way the free online course is structured allows (even requires) students to make multiple mistakes before they "get it right" and progress to the next level. As they progress, their skills increase and they are even using mathematical concepts along the way (such as multiplication and knowledge of geometry and angles).
I LOVE the type of thinking required by Code.org and coding. Information is not spoon fed, and very often when a student is stuck, I say, "Figure it out!" This type of thinking is high on the Bloom's Taxonomy!
Source: http://juliaec.files.wordpress.com/2011/04/blooms_taxonomy.jpg
Mrs. Zanger
(our GAP "gifted program" teacher) will be going into the classrooms in December to try an
Hour of Code
with many of our K-4 classes! Talk to your student about their experience!